Like every Swiss Army Knife, a military can't figure out what it is good for its battle plan until put on a desert island exploring new military options. The F-35 is currently on that deserted island as military planners discover how good the F-35 really can be. It will change naval military procurement around the world once the F-35 completes its first battle from an LHA ship like the USS America (LHA-6).
The British new QE carrier just completed its sea trials before receiving its first F-35B displacing about 65,000 tons. It will exclusively use the F-35B as its fighter aircraft from the deck. The USS America assault ship is about 45,000 tons and will carry a substantial number of F-35B's on deck. Somewhere in the middle of 45 to 65 thousands tons is the perfect small nation strike carrier for all occasions. It would be a flexible and can be replicated better than big nation carriers such as United States of America. The US Marines caught on early with its naval contingent of ships like the Wasp and America.
Long has the Marine debate of having an LHA with a well deck or hanger deck. It has smaller versions, with the LSD and LPD designation. The LSD has a well deck and the LPD has a Hanger deck starting from big garage doors near the middle of the ship.
A well deck version is what conflicts the Marines when defining its missions. The well deck area is a hollowed out area with an opening at the stern of the ship for landing craft egress and ingress to the ship. It can be flooded for landing craft making a direct entry into the ocean or store landing equipment during transition to a hot spot with a an ocean view. LSD's and LPD's would support an invasion with the LHA as the led ship of this Marine flotilla. It's a matter of F-35B applications in battle space that will change ship designs into the future.
Below are the acronym designations and equipment types from the ship.
LSD: Landing Ship Dock: Landing craft from well deck, Helicopters is less number than a LHA; a contingent of Marine troops would travel with the ship.
USS Tortuga (LSD 46) 16,500 Tons
USS Tortuga (LSD-46)



USS Tortuga (LSD-46) in February 2001, off the coast of the Caribbean island of Curacao.

History
Ordered:
26 November 1984
Laid down:
23 March 1987
Launched:
15 September 1988
Commissioned:
17 November 1990
Homeport:
Little Creek, Virginia
Motto:
Tough, Tall, Tenacious
Status:
in active service
Badge:
General characteristics
Displacement:

11,471 tons (light)
16,568 tons (full)

Length:
610 ft (190 m)
Beam:
84 ft (26 m)
Draft:
21 ft (6.4 m)
Propulsion:
4 Colt Industries, 16-cylinder diesel engines, 2 shafts, 33,000 shp (25 MW)
Speed:
20+ knots (37+ km/h)
Boats & landing
craft carried:
5 LCACs or 21 LCM-6s
Troops:
Marine detachment: 402 + 102 surge
Complement:
22 officers, 391 enlisted
Armament:
LPD: Landing Platform Dock: Designed for Helicopters with hanger bay for Maintenance.
Landing Platform Dock, 25,300 Tons San Antonio Class, 10 Each built. Hanger Deck Top Mid Ship
Wikipedia chart credit
History

United States

Name:
America
Namesake:
United States
Awarded:
1 June 2007[1]
Builder:
Huntington Ingalls Industries
Laid down:
17 July 2009[2]
Launched:
4 June 2012[3]
Sponsored by:
Lynne Pace[2]
Christened:
20 October 2012[4]
Acquired:
10 April 2014[4][5]
Commissioned:
11 October 2014[6]
Homeport:
San Diego, California
Motto:

"Bello vel pace paratus"
("Ready for War or Peace")

Status:
in active service
Notes:
Badge:
General characteristics
Class and type:
America-class amphibious assault ship[2]
Displacement:
44,971 long tons (45,693 t)[8] full load
Length:
844 ft (257 m)
Beam:
106 ft (32 m)
Draft:
26 ft (7.9 m)
Propulsion:
Two marine gas turbines, two shafts, 70,000 bhp (52,000 kW), two 5,000 hp (3,700 kW) auxiliary propulsion motors.
Speed:
over 22 knots (41 km/h; 25 mph)[9]
Complement:

65 officers, 994 enlisted
1,687 Marines (plus 184 surge)

Sensors and
processing systems:
Electronic warfare
& decoys:

AN/SLQ-32B(V)2 Surface Electronic Warfare Improvement Program Block 1
2 × Mk53 NULKA decoy launchers[12]

Armament:
Aircraft carried:
Wikipedia Chart Credit
LHA: Landing Aassault Ship: F-35B, Osprey, Helicopters and Marines in greater number than the LSD and LPD. It is the Marine's main assault ship. This next step up is finding the optimal configured ship for the F-35B after it is determined how the F-35B can fight in actual combat. The Navy will make a design bigger than the LHA with a 55,000 ton class having more F-35B's and marines.
LHA-6 America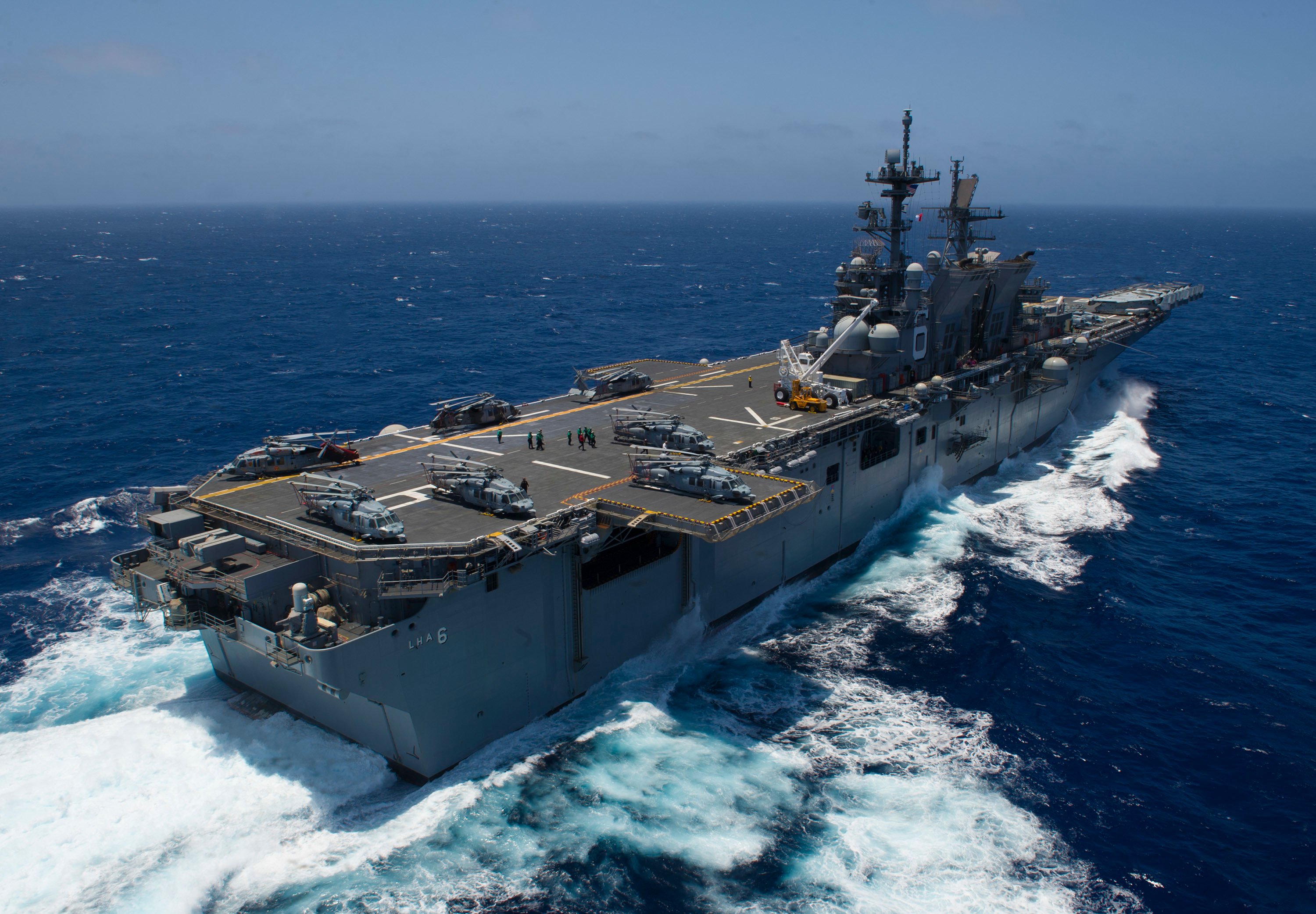 A mid point from the 45,00 ton LHA and 65,000 ton British QE, would be a 55,000 ton nuclear powered assault ship containing a larger ships compliment and landing force of about three thousand military personnel for every situation. It should have about 30 F-35's stored below and multiples of Helicopters and Osprey. Sounds like an overpowering Marine mission.
A key idea would be to build two LHA's for every one Ford class CVN. A 13 billion carrier is twice the cost of two LHA's. A nation who has too few monetary printing presses in action can effectively buy one LHA including flying equipment for its decks for about ten billion US. The Ford class carrier may end up costing 20 billion once all the flying equipment is bought and loaded on board. Another 5 Billion for training and supplying its crews. More billions needed just operating a Ford CVN. The main point is dividing the cost of one CVN (carrier) by two equaling or about 13 Billion a piece when fully complimented and ready for combat.
USS Ford Carrier CVN 79 above 102,000 tons
The naval LHA conundrum dictates how many well deck LHA's and how many hanger deck versions required.
The "mini carrier" containing F-35B's is a military marketing tool for both ship building companies and Lockheed Martin.